This project featured the creation of a VISSIM model of the freeway interchange at Utah Route 201 and Interstate 215.  The cloverleaf junction was constructed in the 1980s when traffic volumes were lower.  The model compares a 50% traffic volume increase (representing 3% per year to a design year of 2040).
The model compares existing configuration with one where two of the 3/4-turn ramps would close and be replaced with two flyover ramps.  This change in configuration would require ramp braiding with two adjacent interchanges.
TABLE OF CONTENTS
INTRODUCTION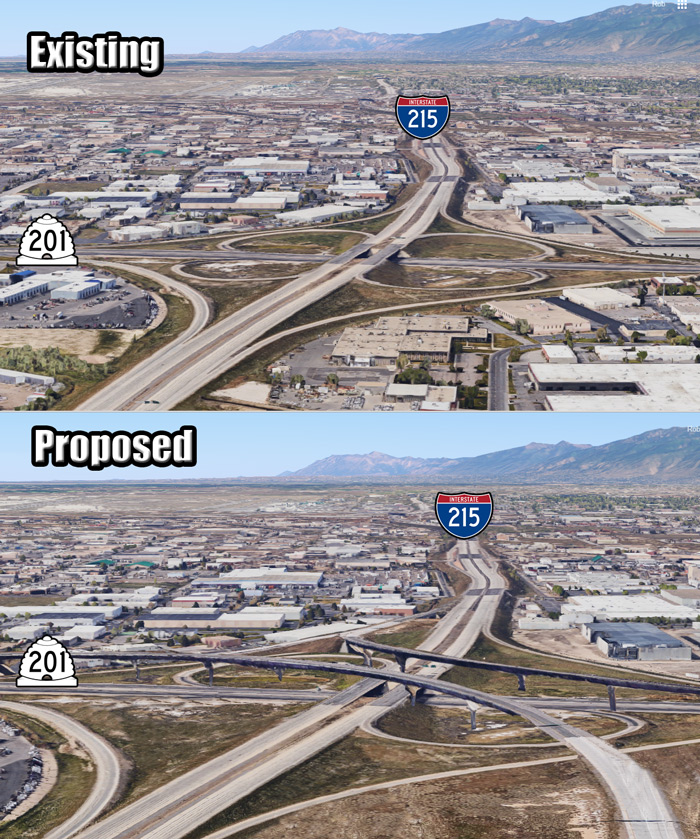 This modeling project compares the present-day and 30-year travel time performance for a freeway-to-freeway interchange and its adjacent freeway-to-arterial interchanges. The model examines four scenarios. One looks at the current geometric configuration with existing traffic. A second model grows the traffic to 2036 levels without any geometric changes. A third changes geometry to address 2036 traffic demands. A fourth models the proposed changes with existing traffic demand. The model is created using PTV's VISSIM software. The SR-201 and I-215 interchange in West Valley City, Utah s a cloverleaf built in the 1970s. The ramps allow motorists to switch between freeways without signals or at-grade conflict areas. A limitation of all cloverleaf interchanges are the four traffic weaving areas created between each of the ¾-turn ramps. This creates a crossing area that poses safety and congestion concerns. The weave affects other lanes that are not directly involved with merging, leading to increased travel time.
Figure 1 Artist's rendering of proposed geometry changes to freeway interchange
The proposed "ideal case" geometry replaces the northbound-to-westbound and southbound-to-eastbound ¾-turn ramps with a pair of flyovers (Figure 1). This eliminates all weaving sections within the interchange. Weaving sections still exist between the interchange and adjacent interchanges.
This model will compare all four scenarios and compare travel times for each of the 12 possible freeway routes vehicles can take through the study area.
DESCRIPTION OF STUDY AREA
The area to be modeled is the system interchange between two uninterrupted flow facilities in West Valley City, Utah. The two roads are Route 201 and Interstate 215, both of which are owned and maintained by the Utah Department of Transportation (UDOT). Route 201 serves as a regionally-significant east-west route through Salt Lake County and a bypass route for Interstate 80. Route 215 is a freeway constructed to Interstate standards and serves as a beltway through the central part of Salt Lake County and a bypass for Interstate 15. The study are encompasses this freeway-to-freeway interchange and the four adjacent non-freeway interchanges that influence the primary interchange (Figure 2).
Existing Geometry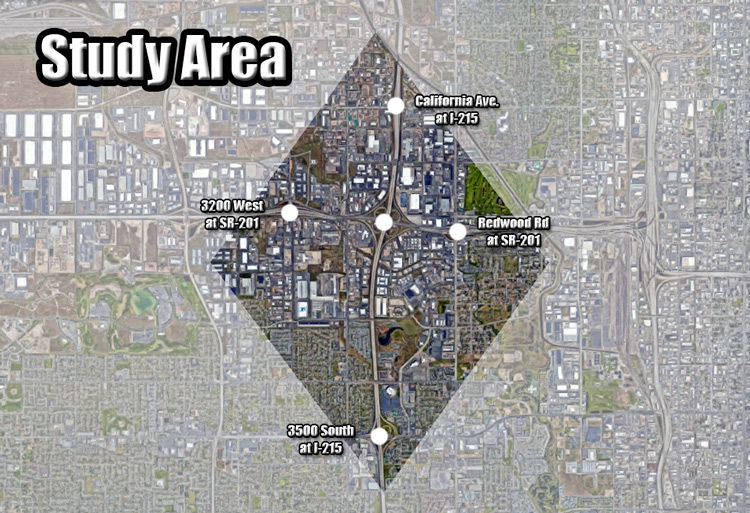 Interstate 215 has four continuous travel lanes through the study area and a speed limit of 75 miles per hour. The 201 freeway has three continuous travel lines and a posted speed limit of 65 miles per hour. Some auxiliary acceleration lanes exist at points within the interchange, but drop shortly afterward.
The primary interchange, I-215 at SR-201, is a full cloverleaf interchange that was constructed in the late 1970s when traffic the 215 freeway was new and traffic volume was fairly low. Travel has increased over the past four decades and will continue to increase over the next 30 years. The cloverleaf has an inherent design flaw which creates four weaving sections, one for each direction of travel along the two freeways. Traffic merges onto the freeway a short distance before a diverge section takes traffic off. Since few cars pass through both ramps, that means an overwhelming percentage of the traffic in the outside lanes are crossing one another.
Figure 2 Study Area, which includes four adjacent interchanges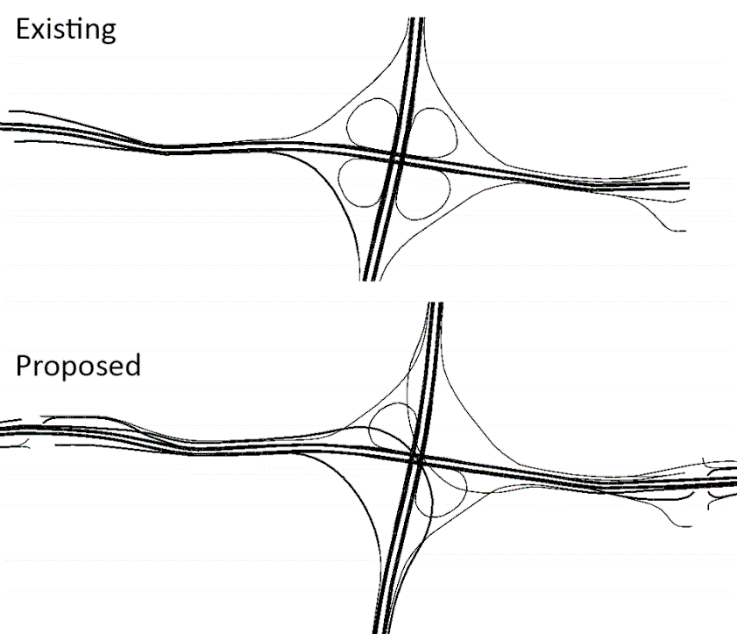 In addition to the intra-interchange weaving sections, interchange spacing is very tight for motorists travelling east or west on the 201 freeway with exits and entrances at 3200 West (0.3 miles) and at Redwood Road (0.1 miles). This leads to three weaving maneuvers. An already-constructed braid exists for westbound 201 to northbound 215 traffic that separates movement from the Redwood Road to WB 201 entrance ramp. No other braids exist presently. A weaving section exists for I-215 travel in both directions between the SR-201 interchange and California Avenue (0.3 miles). Spacing between the SR-201 interchange and 3500 South is a bit longer (1.5 miles) which means the interchanges have influence on one another, but may not qualify as a weave per se.
Figure 3 Proposed geometry changes
Proposed Geometry
It is proposed that in the two "ideal conditions" scenarios that the cloverleaf be converted into a half-stack/partial-cloverleaf interchange. The ramps with the highest volume are southbound I-215 to eastbound SR-201 and its mirror, the northbound I-215 to westbound SR-201 ramp. These ¾-turn ramps would be replaced with a pair of flyovers (Figure 3). Doing so eliminates all four intra-interchange weaving movements and reduces risk of rear-end crashes. The current ¾-turn ramps have exit advisory speeds of 25 miles per hour, which require braking on the mainline freeway. This risk will still exist for traffic exiting SR-201 onto the two remaining ¾-turn ramps, but speeds on SR-201 are posted 5 miles per hour slower (65 miles per hour).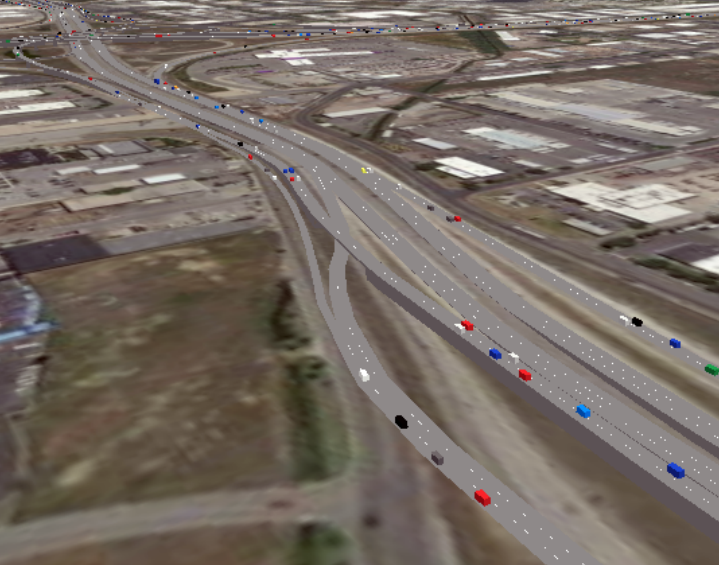 The proposed two flyover ramps require much more upstream and downstream space than the current ¾-turn ramps to accommodate the vertical elevation change required to carry traffic over the existing interchange (likely greater than 40 feet). The spacing between 3500 South seems adequate enough to handle the lengthened ramp. The other three freeway directions are too close to existing interchanges, which are already spaced too close. The ideal case includes three new braid bridges (in addition to the one already in existence for westbound SR-201 at Redwood) to make the transition safe (Figure 4). The braid restricts incoming traffic from exiting to the next exit, which eliminates the weaving section and improves traffic flow.
Figure 4 New braided ramp at 3200 West restricts exit for traffic that is transitioning from NB and SB I-215 to SR-201 WB
METHODOLOGY
All four scenarios were created using VISSIM modeling software. The two "existing conditions" scenarios attempt to mimic geometric configuration as they presently exist. The two "ideal conditions" have links reconfigured to simulate flyovers, collector-distributor roads, and grade-separated ramp braids at 3200 West, California Avenue, and Redwood Road.
Travel time was used as a measure of effectiveness through five hour-long simulation runs in VISSIM. The results were compared to see if the flyovers offer significant travel performance benefits, moderate benefits, no benefits, or are detrimental to benefits.
How the Model Was Created
Lane configuration and posted speed limits were determined from multiple visits to the site. The observation also included noting places within the ¾-turn ramps where cars were more likely to slow down to or below the posted advisory turning speed. For safety reasons, all lanes were assumed to be 12-feet wide. It is possible some segments of I-215 may have reduced width, especially where UDOT has squeezed four lanes onto a bridge that was originally designed for three lanes, and this was not taken into account in this model. Volume data was collected from the UDOT PeMS (Performance Monitoring System) database. Excel worksheets were generated which summed automated Annual Average Daily Traffic (AADT) counts that UDOT had multiplied by a K-factor to estimate Design Hourly Volume (DHV) numbers. These are what were used in the model and were inputted into each generator. A UDOT employee did warn that the data for SR-201 may have calibration issues. Some of the ramp data was either not available, or was highly suspect as it seemed to indicate that an overwhelming majority of the traffic would exit the freeway. In these cases, a downstream counter was compared with an upstream counter, and the difference was assumed to represent the ramp volume.
In VISSIM, connectors were added to reflect transitions to ramps, lane drops, and lane adds. Ramps at adjacent interchanges with surface streets (specifically 3200 West, 3500 South, California Avenue, and Redwood Road) were added but the traffic signals were not modeled. Generated vehicles terminate at the off-ramps. These connectors were then modified in a separate file to represent the "ideal" new geometric configurations that included flyovers, collector-distributor roads, and grade-separated ramp braids. A shift in Z-position (height) was made to place the ramps 40 feet above the existing interchange, and a Z-shift of 20 feet was added for each mainline overpass over a cross street. Dummy streets with 20-foot Z-shifts were added over the I- 215 freeway at 3100 South and 2700 South, but are non-functioning and for aesthetic purposes only. Non-functioning short links were added under the flyover, giving it the appearance of having load-bearing columns. These are also non-functional and purely aesthetic.
Vehicle trips were added to the model at all in-bound freeway links and on-ramps. Both the existing conditions and ideal conditions scenarios use the same volume counts for their 2016 scenario. Using a compounding-interest formula of 2% traffic growth per year, a factor of 1.5 was multiplied to these volumes to represent traffic conditions in 20 years, for the 2036 scenario. Vehicle traffic was then routed using the Route Decision tool in VISSIM to reflect behavior at each exit ramp. Speed data was added using the Desired Speed Decision tool. A new speed profile was created for mainline freeways which offer a distribution of 55 to 82 miles per hour with the 85th Percentile Speed set at 75 miles per hour, which reflects 5 miles per hour above the posted speed limit on I-215 and consistent with formulas in Highway Capacity Manual. A second speed profile was created for transition ramps which has a distribution of 30 to 55 miles per hour with the 85th Percentile Speed set to 40 miles per hour. A third profile was created for the two remaining ¾-turn ramps (and also used for the ¾ turn ramp at 3500 South, although that is for aesthetic purposes only) which has a speed range of 25 to 40 miles per hour with an 85th Percentile Speed of 32 miles per hour (7 mph above the advisory speed), reflecting the cautious driving those types of ramps require. None of this data are based on any specific data collection, but rather, reflect anecdotal observations from driving the corridor. Reduced Speed Areas were added to the portions of the ¾-turn ramps that were observed to be lopsided and sharper than originally constructed due to widening of SR-201.
Problems Addressed
The existing conditions model was never completely calibrated, in part, because there was insufficient resource and time to conduct a field study to compare the travel times in the model with real-world travel times. The model had some errors, including disappearing traffic, and some incorrect geometry. These were corrected until the model began to appear to reflect reality. Under initial testing the "ideal conditions" model performed worse than existing conditions. This was also suspect because two unaltered freeway ramps performed more poorly than the existing conditions model, and should have performed exactly the same. This error, along with many other minor ones, were corrected. The model performed better but still would see delay after a simulation time of 15 minutes.
The "ideal conditions" model was then re-engineered to correct delay. As a segment was expanded or reconfigured, it would allow more volume to pass through and would then create new queues at a downstream bottleneck that had previously functioned fine because the upstream bottleneck worked as a flow restrictor. This created a series of cascading adjustments to the entire system, each of which caused systemic-failing delays. The entire list of changes includes:
Replacing two ¾-turn ramps, NB to WB and SB to EB, with flyovers
Creating braided ramps for SB 215 traffic entering at California, EB 201 exiting to Redwood, and WB 201 exiting to 3200 W.
Widening downstream WB and EB SR-201 from 3 lanes to 5 at the end of the collector-distributor road through the end of the study area.
Removing the lane drop on the EB to SB freeway connector and extending the double-lane through to the SB 215.
Widening SB 215 to accommodate new lanes at the interchange from 4 lanes to 7.
Reconfiguring the exit at 3500 South to change double-trap lane to single-trap lane.
Extending extra lanes on SB 215, from 4 to 6, through the end of the system.
Widening incoming lanes on NB 215 from 4 to 6.
Reconfiguring exits to 3500 S to prevent double-trap lanes.
Widen NB 215 from 3500 S ramps to 201 freeway interchange from 4 to 7 lanes.
Add eighth lane at freeway interchange diverge with collector-distributor road to prevent double-trap lane. Drop the seventh (outside) lane farther downstream.
Remove the lane drop on the already-existing WB to NB braided collector-distributor road and widen the ramp to 2 lanes all the way through to NB 215.
Widen NB 215 from 4 lanes to 6 from 201 interchange to California exit.
Reconfigure NB 215 California exit to only have single-trap lane and extend widening from 4 to 5 lanes through the northern end of the study area.
Widen SB 215 traffic entering the study from 4 lanes to 6. Reconfigure a new seventh lane to prevent a double-trap exit for the triple-lane ramp to the SB 215 collector-distributor braid with California Avenue's onramp.
From there a model was ready that demonstrated no significant queuing within the study area even under 2036 traffic conditions (1.5-times normal). This was also used for the 2016 "Ideal Conditions" scenario.
SIMULATION RESULTS
The simulation was run for all four scenarios five times for 4500 seconds apiece. This represents a 15-minute seed time where cars populate the simulation and was not counted and a 60-minute simulation time that was counted. Travel time was counted from where a car entered the study are on a freeway to where a car exited the study area on the freeway. This gave 12 possible travel time metrics, as each driver had four places to enter the study area (WB 201, EB 201, NB 215, and SB 215) and three possible options when they approached the freeway interchange (left, thru, or right). Vehicles entering and exiting at non-freeway interchanges were not counted toward the average, though their volume does contribute to the freeway's overall capacity, which in turns affects travel time.
It is abundantly clear that under future traffic volumes (2036) the existing configuration fails dramatically. In a time lapse animation, the SB 215 weaving section at the interchange fails first. This is expected because the SB to EB ramp has the highest volume. These queues back up through the adjacent ¾-turn ramp (WB to SB) and fail an already-struggling weaving area on WB 201. The failure then dominoes through the two remaining ¾-turn ramps and weaving sections creating an infinite loop of delay that queues mainline traffic on both freeways in both of their travel directions (Figure 5).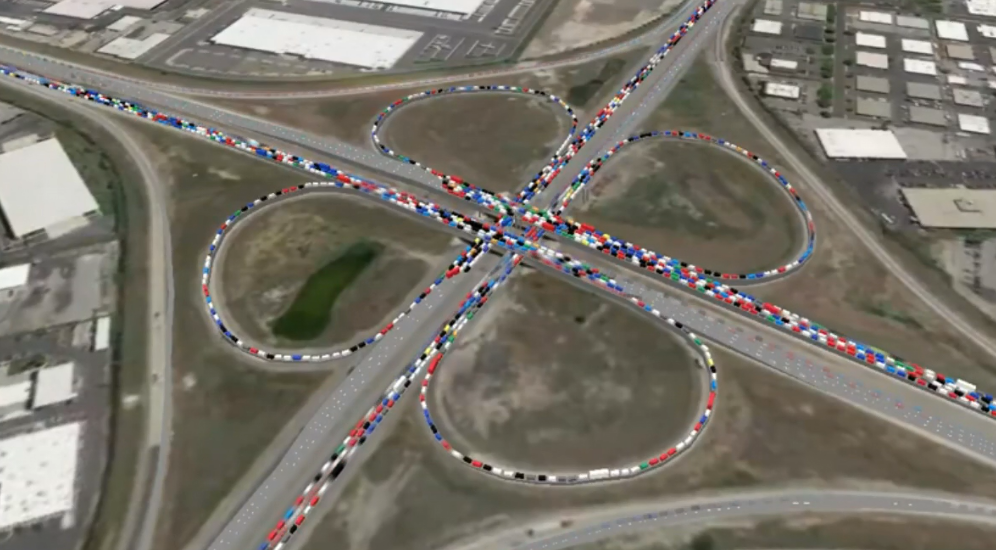 The ideal conditions are custom-designed to prevent such failure, or any queuing for that matter, within the study area. As a result, the simulation can be run indefinitely without any queuing forming. For the sake of test purposes, the simulation was run for 7200 seconds (two hours) and no delay was visible within any part of the study area (Figure 6). If proposed improvements end just outside the boundaries of the study area, it is likely delays would form and back up into the study area. But this is not conclusively known since VISSIM uses microsimulation calculation, and therefore, only analyzes traffic inside the study area.
Figure 5 Existing conditions loaded with 2036 traffic volume (1.5-times present day) causes the existing cloverleaf to fail dramatically in all freeway directions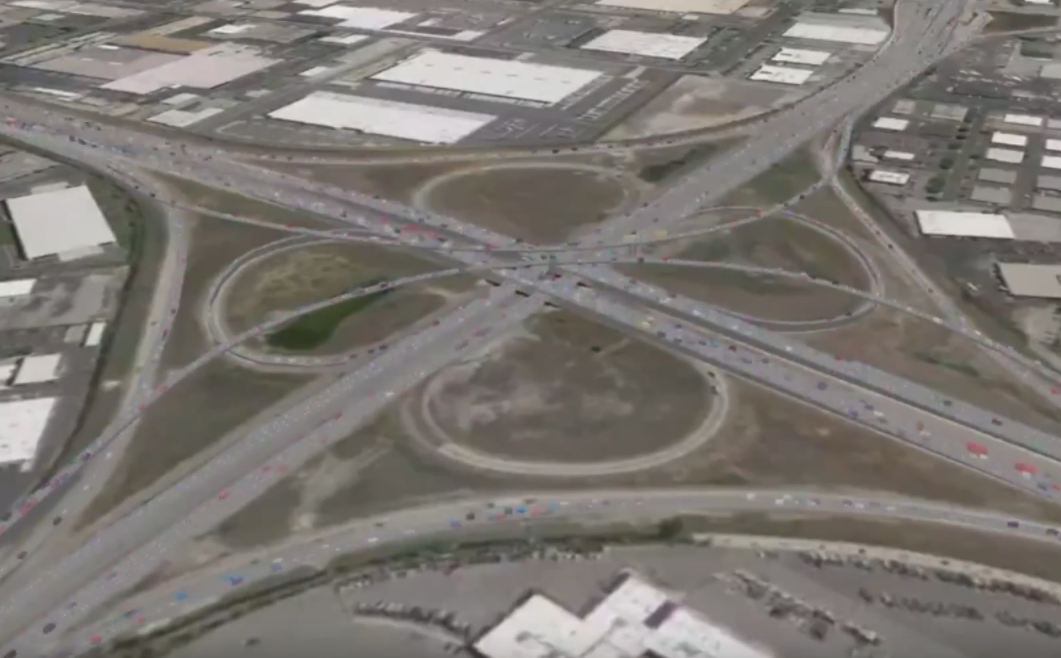 Figure Ideal-case conditions loaded with 2036 traffic volume (1.5-times present day) appear to cause no delay, even after long periods of simulation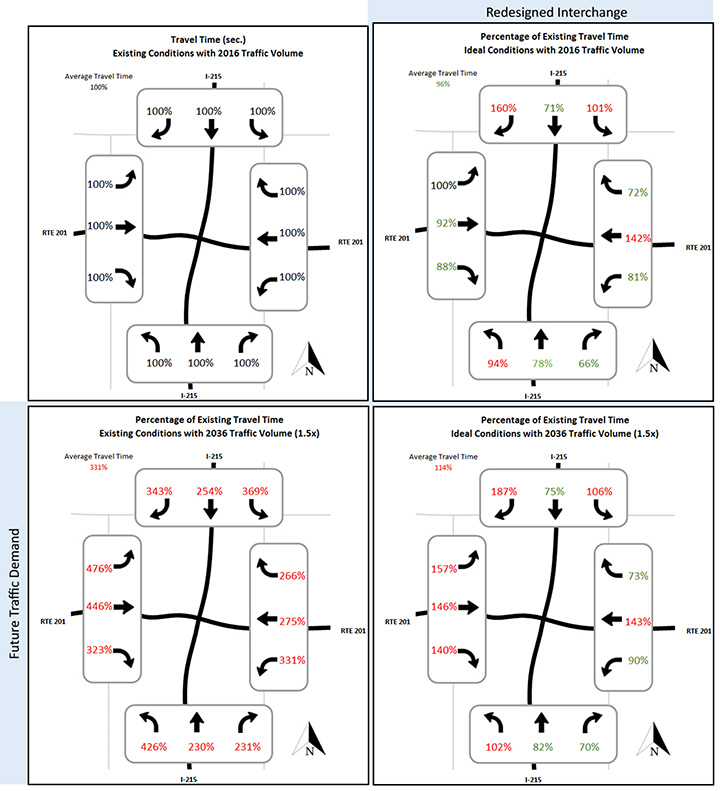 The results include averaged travel times for the five simulation runs into a single value for each of the 12 possible freeway-to-freeway vehicle routes a driver could choose. These travel times were divided with their counterpart under scenario one (existing conditions, 2016 volumes) to determine what percent increase or decrease a change has on travel times (Figure 6).
Figure 7 Travel time results from simulation runs in VISSIM
The results clearly indicate that the proposed improvements offer a significant travel time improvement for thru traffic on Interstate 215 even under present values. This indicated the effect the existing weaving sections has on mainline traffic. In a site observation, one may notice a lot of lane changes on the I-215 structure over SR-201. Traffic entering the far-right lane affects the number 2 lane, which causes drivers to merge to the number 3 lane. That causes nearly all the freeway lanes to have slower average speeds. Removing the weaving sections must fix this, leading to improved travel times.
Under higher future traffic volume, the ideal conditions have a significant impact, reducing future travel time increases from over 300% under the existing configuration to just 114% increase in travel time. Full results are available in the appendix.
CONCLUSION
This project models the existing versus ideal geometric conditions of a two freeways. It takes into account the influence of upstream and downstream adjacent interchanges and the weaving sections it creates. It compares performance metrics for both present-day volumes and predicted conditions over 30 years from now. The model is created using PTV's VISSIM software.
It was determined that the proposed changes do improve travel time significantly under future volumes compared with leaving the freeway configured how it is, reducing delay from 300% to 114% of existing travel times. Much of the time savings is for mainline I-215 in the north-south direction that is currently being affected by the weaving sections. Savings on mainline east-west SR-201 is significant, but not nearly as good. That may be due to the braking still required to negotiate the two remaining ¾-turn ramps.
To fully realize these results, the model was custom designed to eliminate all delay from the animation. In so doing, major widening was done to both mainline freeways which expanded capacity over 30% and was continued through the extent of the study area. It is likely that delays have only been moved downstream outside the study area and will exist in other areas and possibly queue back into the study area, which cannot be modeled in microscopic simulation software.
Additionally, UDOT must consider these improvements are very expensive. To accomplish the changes demonstrated within the "ideal case" model, it would require spending hundreds of millions of dollars, which include two very long flyover structures, three new structures for the braided ramps, and widening of nearly every inch of mainline freeway within the study area. And that would not include further improvements needed outside the study are to prevent downstream bottlenecking. A separate study is recommended to determine the vehicle-hours savings and cost per driver per year over the life of the bonds used to pay for the project.
.
APPENDIX